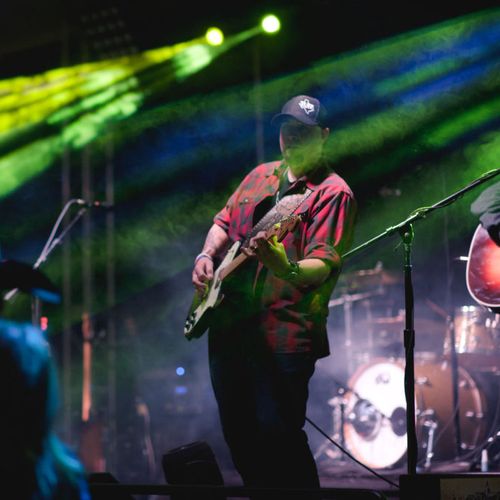 Trae Windham
Lead Guitar
Trae Windham is a Houston born guitarist with a musical background as colorful and diverse as his cajun/blue ridge mountain heritage. He cut his teeth in music at 12, living in Aldine and playing along side of his dad, performing classic country, rock, and blues. Trae's free time was spent exploring the world of grunge, punk, and heavy metal. At age 14, he was exposed to Jazz while performing with the well traveled MacArthur High School "Mac Jazz Ensemble". Here, he was very fortunate to play and learn from some of the genre's heavy hitters like Gloria Estefan, Ndugu Chancellor, Jon Faddis, Joseph Jackson, Mike Wheeler, and many more.
As his senior year came to an end, Trae decided to pass on college when he signed on to play lead guitar for Texas artist Bart Alan Woytek. This decision was a catalyst for a career that saw him play and share the bill with country, rock, and punk artists like Neal McCoy, Kenny Chesney, The Kentucky Headhunters, Fenix TX, The Hunger, Los Skarnales, Cooder Graw, Bleu Edmonson, Randy Rodgers, Kevin Fowler and many more. During a four year stint playing with Mark Miller, Trae met and befriended Shay Domann's own drummer, Brian Parker.
In 2009, however, after years of tearing up the roads and dance halls all over the state and southwest region, Trae decided to slow it down and focus on God and family. He continued playing though, bringing his services to a well known Woodlands area church and keeping his country thirst quenched with limited appearances in Humble's own 59 North Band. It was during this time , he was blessed with the opportunity to play with some of the state's best musicians and rediscover his love for music.
The last year has found Trae out and about more often, playing with 59 North, Texas legend Dub Miller, and Phillip Griffin. Now he is excited to reunite with Brian Parker again and bring his brand of heart-felt and passionate lead guitar work to the Shay Domann stage.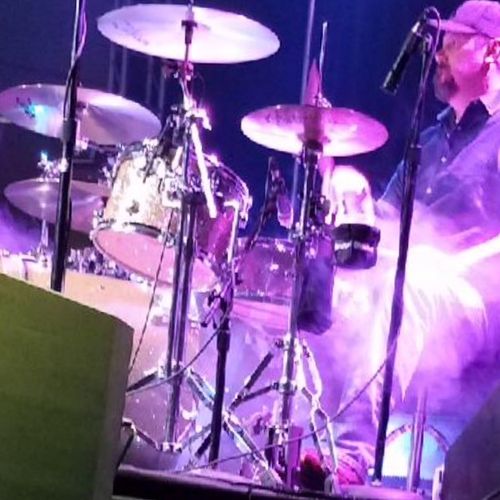 Brian Parker
Drums/Vocals
After being forced to attend his older sister's high school orchestra concerts, Brian was hooked the first time he heard the sound of a snare drum. He received his first drum set Christmas morning of his sixth grade year. From there, he played in a few garage bands with a couple of the neighborhood kids. During high school, Brian continued playing drums while competing in a few battle of the band competitions. After his 1991 high school graduation, the drums took a backseat to work and college. Years later, he performed with a few Houston area musicians where he played the local bar scene. A few bands and a hundred beer joints later, Brian hooked up with the Mark Miller Band where he shared the stage with many pioneers and upcoming artists of the Texas Music scene. He could be found in famous local venues such as The Firehouse Saloon, Gruene Hall, The Armadillo Palace, Blanco's, and the Continental Club.
After sharing the stage with names like Jason Boland, Randy Rogers, Cory Morrow, Kevin Fowler, Aaron Watson, Bleu Edmondson, Stoney LaRue, Brandon Rhyder and David Allan Coe, he pretty much thought that he had seen it all! Brian was introduced to Shay Domann in the winter of 2009 where he was invited to play with Shay, Bobby, and Eric with SlickHiway, and the rest is pretty much history.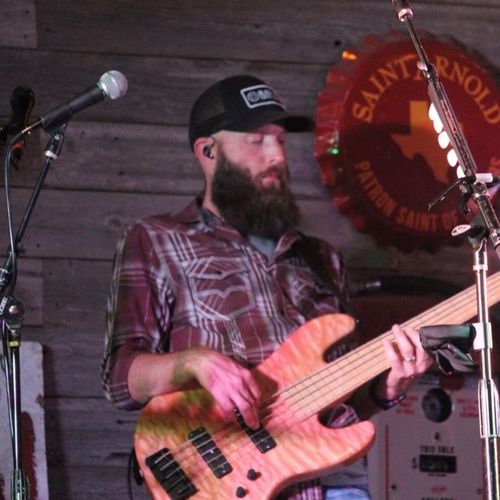 Kris Pierce
Bass Guitar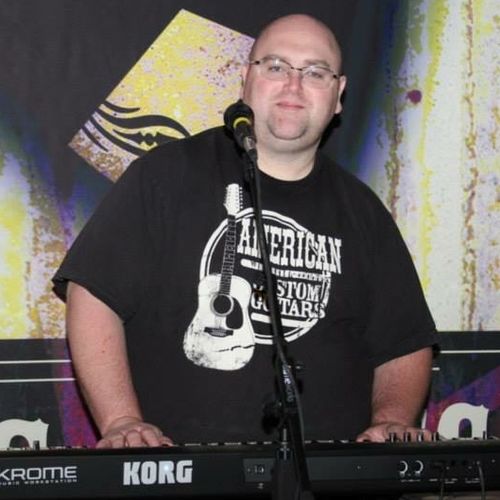 Eric Bankhead
Keyboards/Vocals
Eric grew up in Conroe, TX.  The music in his house was a melting pot consisting of Haggard, Strait, The Eagles, The Beatles, and The Bee Gees, amongst many others.  As he grew older he began to appreciate the bands with harmonies such as The Eagles and The Beatles and adding to it groups like Alabama, Restless Heart, and Diamond Rio among others.  
At 13 he collected some birthday money and purchased a $100 Casio keyboard and began to teach himself by ear.  Years later he ended up playing for the church band and me former Word Records and Warner Brothers recording artist Rick Crawford.  Later on Crawford would recruit him to play in his own band.
In 2005 Eric joined forces with his brother Jeremy playing bass in their band RagTop.  The band enjoyed some moderate regional success where they found themselves on the same stages as Honeybrowne, Bleu Edmondson, Micky and the Motorcars, and Gary P. Nunn.
After becoming a dad Eric took a break until Shay Domann recruited him.  He joined Shay and band at the beginning of 2018 back on the keys.  Eric also enjoys playing guitar, mandolin, old cars, and Texas A&M football.