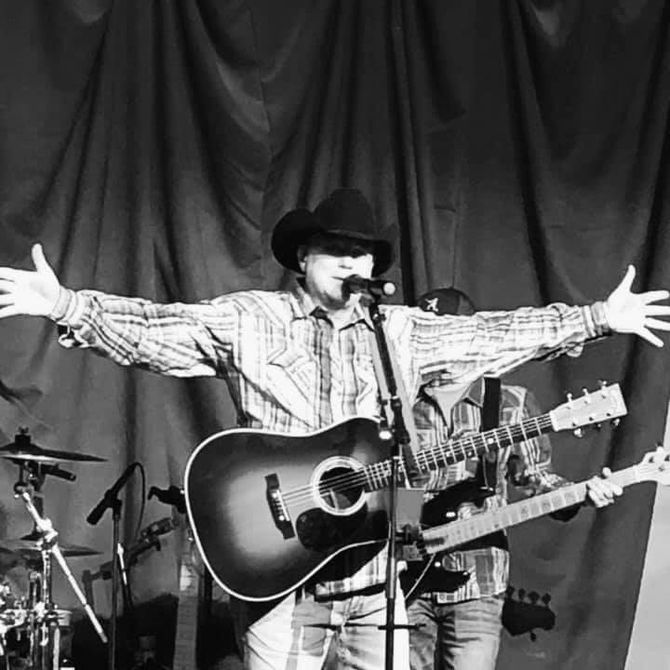 About Shay Domann
In the spring of 1991, Shay placed a call to his Parents and informed them that he wasn't coming home at the conclusion of his freshman semester at SFA. "I met some guys who played in a band, and they needed a new lead singer. They said I could live with them, they'd get me a summer job, and we'd play some paying gigs. Fifty bucks a night and free beer – I had to keep pinching myself!" The guys kept their promise and his life was forever changed. After a couple of years of playing with the band, Shay had a chance meeting with some other musicians during a Happy Hour at Crossroads in Nacogdoches. "Chris Harris and Eric Maaz were playing there with another band. All of us were kind of looking for something else musically at the time." Within a few months, they (along with drummer Dave Cahal) were packing the clubs and developing quite a following with their new party band project – "Honest Mango". Shay recalls those days fondly, "We had shows where we would put a couch on stage for a few lucky fans sit on, or sometimes we would let Eric's dog (Duke) lay down and somehow go to sleep at the front of the stage. One time we even smashed a pie in some people's faces for requesting a song we were really tired of playing. It was so much fun – we had a great chemistry, made decent money, and went to an awesome school full of people who loved the music and loved to party".
In the years leading up the not so shocking phone call to his parents, Shay spent his first eighteen years in Tomball, TX. When talking about his family, shay recalls "my dad played guitar and could sing harmony, my uncle Buddy still hammers on his tenor guitar and is an underrated singer, both of my brothers and cousin play a little, I have some other more distant family members who could fiddle by ear, and Mom has a pretty good voice as well. I guess it's kind of in the blood."
About a year after college graduation, Shay became the front man for Dallas based country band "Five's a crowd". He spent the late 90's traveling across the United States playing as many as 200 shows a year. "I remember how proud my Dad was when he came to see me play at Billy Bob's for the first time", Shay explained. Shay has performed at some of the most renown venues in the country– The Wild Horse Saloon in Nashville, The Grizzly Rose in Denver, and Bill Bob's in Ft. Worth are just a few of the stops he's made in last 20 years. He's done shows with dozens of national acts including Gary Allen, Keith Urban, Johnny Lee, Chris Ledoux and a host of others.
Shay often told friends while in college, "I'll get my degree, but I want to prove that I can support myself playing music full-time." Shay accomplished that goal by showing people that he is an elite showman with a diverse and engaging vocal style. He has the unique gift of being able to connect and win over an audience in just about any setting.
In 2008, Shay formed the Houston-based group "SlickHiway". The group enjoyed some regional success while focusing on the "Texas/Red Dirt sound". During these years he also started getting involved in Christian music, sometimes leading praise & worship at his church. Shay tells anyone who will listen, "God gave me the gift of music – It's time to give some of it back."
In December of 2010, Shay decided to start performing under his own name. "It's something I had always planned on doing, but the timing never seemed right. The guys from Slickhiway decided to stay with me, and I'm fortunate to have such talented players and great friends to share the stage with. I'm excited about writing and putting out some original music while bringing an entertaining stage show to every venue we visit."
Shay has come back to his roots in Tomball. He lives there with his wife and two children. "My kids think that Dad is a "rock star" and my wife (Leigh) is kind enough to not tell them truth (Laughs). She's been with me every step of the way, and I love and appreciate her for her unending patience and continuous support.
"It really isn't that complicated . . . I love to sing, I love playing the guitar, I enjoy writing, and there's nothing like performing. I guess you could say that it's in my blood."